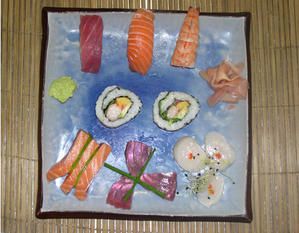 Makoto plate
For lunch my husband and I went for the first time to the only "japanese" restaurant of Pau, the
Sushi-Thaï
. It is not exactly a japanese restaurant because apparently it's more thaï than japanese... But it was very good, I had sushi and sashimi : the makoto plate, Fabrice had chirashi. For desert I had wasabi, ginger and mango ice creams! The wasabi ice cream was quite surprising but really good, neverthless I do not think I'll have it another time... Ginger was excellent and mango is not as exotic, is it? (I took the mango one just in case the other two would be yuky;-)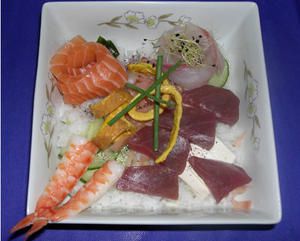 So the food is good, the place is cosy and nice, the waitresses nice.
It's a shame that it is probably the only japanese restaurant in Pau, because in Paris we used to go only in japanese restaurants and went to a lot of them :-D We used to go in when we saw there was more japanese people than french people having their meal :-)
About the price, it is not cheaper than in Paris... Quite expensive in fact. We paid 50 euros for:
Miso soup, a plate, a desert, a drink x2. More expensive than the parisian restaurants we used to go actually.
Well, that was our restaurant of the month... What is yours?